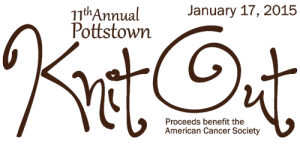 The 11th Annual Pottstown Knit Out was held at the Brookside Country Club, January 17, 2015. Thank you to all who participated in this year's event. As always, a great time was had by all. All proceeds go to Pottstown Relay for Life, while knitting donations go to Pottstown Memorial Hospital.
Hope to see you back next year.
If you would like to attend next year, please email: info@pottstownknitout.com to be included on our mailing list. We cannot emphasize enough that our space is limited.
Tips:
Make sure you're on our mailing list. Email info@pottstownknitout.com.
Please do not contact the club.
Admission is on a first come, first serve basis; we have limited space. When you receive the notice, send your application immediately.