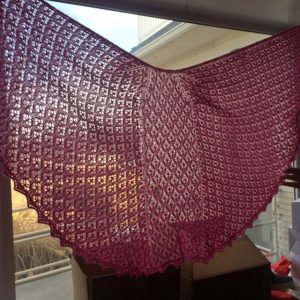 This year's Knit Out filled the senses.
The sounds of friends sharing their projects, the new ideas and skills they learned in workshops, and their memories and plans.
The smell of coffee in the morning and the taste of grilled chicken, crispy salads, and hot soup at lunch.
The sights of works-in-progress and finished works, your projects and your neighbors'. All sorts of crafts–knitting, yes, but also crocheting, beading, punching, quilting. Modular shawls, mitered afghans, pieced works, lace stitches, fair isle patterns, cabled cowls, fuzzy pompoms, textures and colors of all sorts.
The feeling of awe as we watched Show and Share. One such piece was the beautiful Faroe Island-style shawl above, knit in one piece with a center, back panel and wings that spread out like a snow angel. Small pattern adjustments allowed the shawl to stay in place at the shoulders.
We are putting together a slide show for you all to enjoy of glimpses of your work and ours.